High St. Nos. 38 & 40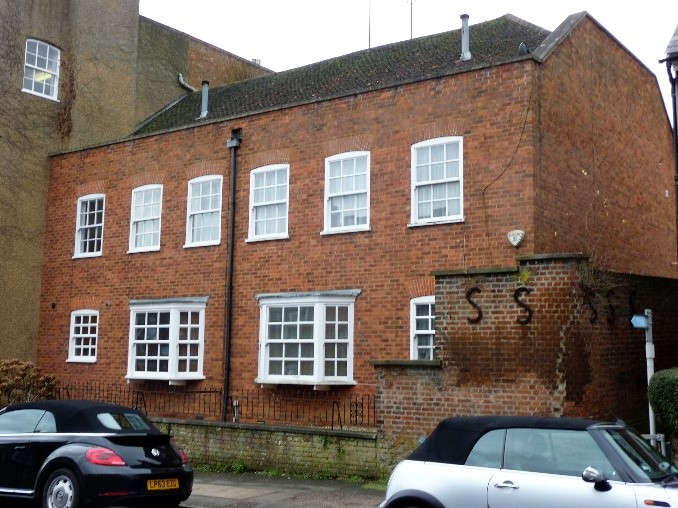 The houses shown in the photo are modern extensions to the priory. Records exist to show that this small area of land has had a very interesting history. An inn called 'The Woolpack' or 'Woolsack' certainly predated 1635, as in that year Thomas Symons took over the copyhold from John Ellis. So we can only assume that there was a building on the site that dated from the medieval period. Indeed the land belonged to the Manor of St Amphibal. In 1637 the inn and a malthouse were transferred to John Sympson, from whom it went to Susanne Morris in 1659. By 1659 it was in the hands of Barnabas Hurst and when he died, it is in his will with a value of £179.14s.0d, a vast sum for a property and business in the village. It appears to have been left to Barnaby's daughter Katherine, who with her husband, James Hannell ran the inn until 1692. He was evidently a very shrewd business man, for when there was a shortage of small silver coinage in the village around the 1670's, he issued his own heart shaped trade token – worth half a penny. The inn had disappeared by 1707.
The ownership of the land (about a quarter of an acre) lay with William Grimston, the Earl of Verulam and he gave it to the trustees of the village to build a market house. No record of this building has survived or more especially, what uses it was put to other than it housed the local lock-up or cage. It would seem that at some point it was occupied in 1826, when the Parish council ordered one John Limes to move out so that the building could be used for the purpose it had been constructed for - a market house. By 1835 the parish had its own fire engine and this was thought to be housed in the market building but in March 1855 the building was sold.