Straw Plaiting
This was a cottage industry in the village and was closely related to farming as the straw grown locally provided the basic raw material. Generally, in a family where there was an agricultural labourer, his wife and children were working as straw plaiters to augment their income. The origins of this cottage industry have been traced back to a group of French plaiters who had settled in the Luton Hoo area during the reign of James I at the start of the 17th century. Though it could be dated to the 16th century when, due to the Wars of Religion in Europe, Flemish refugees brought their skills to the area. Arthur Young, writing in his 1804 work 'General View of the Agriculture of the County of Hertfordshire, noted that Redbourn
'is the place where the manufacture is most prevalent; where women will earn £1 1s. a week, and where a pound of prepared straw is sold as high as 6d. After six weeks learning, a girl has earned 8s. a week; and some clever little girls even 15s. The farmers complain of it, as doing mischief, for it makes the poor saucy, and no servants can be procured, or any field-work done, where the manufacture established itself. There may be some inconvenience of this sort, but good earnings are a most happy circumstance, which I wish to see universal.'
Pigot's directory was a major British directory started in 1814 by James Pigot whose directories covered England, Scotland, and Wales in the period before official Civil Registration began and are a valuable source of information regarding all major professions, nobility, gentry, clergy, trades and occupations including taverns and public houses and much more are listed. There are even timetables of the coaches and carriers that served a town. He noted that much of the prosperity of the inhabitants of this 'small but bustling market town of Redbourn' was due to 'the manufacture of straw plait'. Another source – Edwin Grey's reminiscences of Harpenden –Cottage Life in a Hertfordshire Village, explains in detail the work involved in the trade.
Before the straws could be used they had to be split into strips.... For this a small tool termed a splitting machine was used… [there was] a sharp almost needle-like point, about ¾ of an inch of the tapered end being bent or turned downwards. The down-turned end, at about ½ an inch above the sharp point, was encircled with a little frill of cutters; these cutters were from 4 to 8 in number, and so according to the fineness of the strips required, a splitter with more or less cutters in its frill was used, the strips so obtained being called 'splints'.
Before the splints could be used they had to be passed through a little wooden affair, something like a miniature mangle, called a 'mill'. These mills were entirely of wood, and were made up of two small rollers, one of which was provided with a spindle on to which the wooden handle for turning was fixed; a wooden screw for increasing the pressure when required. In every plaiter's home, fixed behind one or the other of the doors, would be found one of these wooden mills. The splints were now passed two or three times between the tightened-up rollers, some few at a time; this process made them much more soft and pliable for use.
In 1841 the census shows that 51% of women were plaiters. The majority were young. The 1851 census reveals the numbers of plaiters - up to 10 years of age - 49 females and 22 males; 11-20, 112 females and 7 males; 21-30, 84 females and 1 male;31-45, 63 females and 1 male; 46 and over, 64 females and no males. Farmers planted the correct type of long-stalked straw at the edges of fields, and the men acted as suppliers and preparers of the straw.
The Victoria County History suggests that an innovation in the industry occurred in the village with the invention of a straw sorter.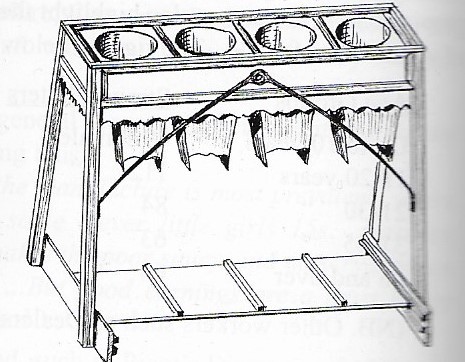 This wooden framework was constructed with a top with sections of wire gauge with a mesh of varying diameters. The sections were kept separate below with fabric and below was a removable trough divided into corresponding compartments. The worker would shake straws over the mesh in succession and each division of the trough would 'be filled with straws of equal diameter'.
The actual plaiting was a skilled task, lots of practice was needed and we can get an insight into the production of the straw plaits form a government report on straw hat manufacture by J.E.White published in 1867.
'In a room little more than 10 ½ feet square, and between six and seven feet high, the number of children attending on the day of my visit was 41 and there have been sixty…Some plait schools are only day schools, i.e. from breakfast to dinner, and from dinner to tea [often 8.30 – 12.00 and 1.00 – 4.30], but some have an evening school also from 6 to 8 or 6 to 9. In several plait schools I noticed formidable looking sticks, which the mistresses say they are obliged to keep, and sometimes to use. It appears that formerly much severity has been used, but I did not find any cases of bad treatment.'
Such 'plait schools' were noted in the area. One in Harpenden was reported on in 1858.
'Numbers of children are sent to what is called 'Plaiting schools'. There they pretend to combine Instruction with plaiting. This is a mere sham [trick] – The great aim appears to be 'what they can earn'. It was really painful to witness so many children of such tender years sitting close packed in heated rooms superintended by a female urging them on with their work. It was to me surprising how cleverly their little nimble fingers twisted and plaited the slender straws moistening them with their little lips – To confine children so young and so many hours without that healthful recreation so suited and needful for their years I felt was cruel.
Edwin Grey (Cottage Life in a Hertfordshire Village) was looking back on his life in the 1870s and reports scenes that would have been common in the village. ' One saw more of the young women in the summer time, as they could plait equally as well out of doors as within, so that on nice warm summer evenings, little groups of women might be seen at cottage doors all busy plaiting, and at the same time enjoying a little gossip… This industry had many good points about it, so making the work excellent for the cottage homes: firstly, it was of a clean nature, and then again the housewife could, when wanting to go on with other household work, put aside her plaiting, and resuming it again at any time. She could also do the work sitting in the garden, or whilst standing by the cottage door, enjoying a chat or gossip with her neighbours. The mother also could rock the cradle with her foot, whilst using both hands at the plaiting.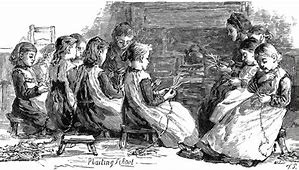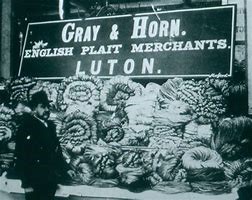 We have records for the existence of three 'plait' schools in the village. One was at Mount Pleasant on the Common run by Mary Smith between 1861 and 1871, another was located in the High Street, run by Ann Grover around 1861 and a third at the Jolly Gardener(s) pub on the Common (dates unknown). By 1841, the numbers of people involved locally in the trade had started a sharp decline, by the 1870's imports were coming in from China and in the 1890's Japan. By 1891, there were only 19 straw plaiters still operating in the village.